Major Theater Production: "In the Heart of the Heart of Another Body"
January 9–10, 2010 8:30 PM
Gulbenkian Theatre, Beirut campus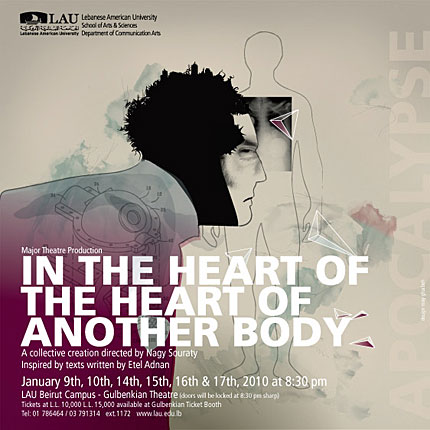 Performances will take place on January 9, 10, 14, 15, 16 and 17, 2010 at 8:30 p.m. (doors will be locked at 8:30 p.m. sharp).
Summary:
In the Heart of the Heart of Another Body is a collective creation directed by Nagy Souraty and inspired by texts written by Etel Adnan.
It is an experimental performance.
It is not based on a specific script.
It does not follow a specific plot.
We started exploring concepts and ideas.
Texts came in later in the process of creation.
The ideas we explored are the heart, memory, time, death, survival, space, silence, humanity…
Artistic team:
Director: Nagy Souraty
Production Manager: Hala Masri
Technical Director and Lighting Designer: Mona Knio
Set Designer: Bernard Mallat
Costume Designer: Sue Z. Chamaa
Poster, Program and All Print Designer: May Ghaibeh
Directed By: Nagy Souraty
Ticket information: Tickets costing L.L. 10,000 and L.L. 15,000 are available at the Gulbenkian Theatre's ticket booth.
Organizer: School of Arts & Sciences (Beirut) – Department of Communication Arts
Contact: 00961-1-786464 / 00961-3-791314 ext. 1172
Related calendars:
See also: