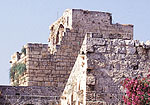 Click to enlarge image

Submit a Paper
Please email your papers and panel proposals by December 10, 2000 to:

Papers must not exceed 6,000 words, and panel session proposals must not exceed 2,000 words. In particular, papers should include the following:
1. First page with the title of the paper, the name(s) of the author(s), and the affiliation. For the corresponding author, the mailing address, e-mail, fax number, and telephone number should be given.

2. An abstract.

3. Three to five key words. One of them must be one of the areas listed in AICCSA's scope.
Accepted paper formats are MS Word, Postscript, and PDF. Please note that PDF is the preferred format.

If electronic submission is not possible, three hard copies of the paper and a diskette file should be sent by regular mail to:
Dr. Nashat Mansour
Lebanese American University
P.O. Box 13-5053
Chouran Beirut: 1102 2801
Lebanon

or

Dr. Nashat Mansour
Lebanese American University
Madame Curie St.
Koreitem, Beirut
1102-2801
Lebanon