UNESCO Club Seminar on DIS - Ability
May 18, 2012 12:00 PM
Upper Gate, Beirut campus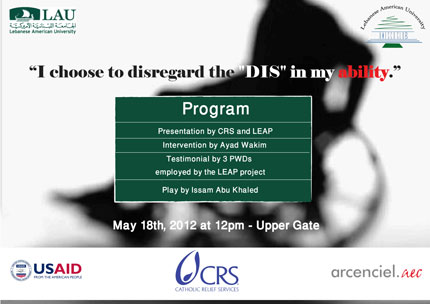 The LAU UNESCO Club is organizing an event on Friday May 18th entitled "I Choose to Disregard the 'DIS' in My Ability."
The program of this event will include:
- A presentation by the CRS and LEAP.
- An intervention by Ayad Wakim.
- A testimonial by 3 PWDs employed by the LEAP project.
- A play by Issam Abu Khaled.
Organizer: UNESCO Club
Related calendars:
See also: