Workshop: Communication Skills, Speak So That They Listen
June 19, 2018 12:00 PM
Frem Civic Center 205, Byblos campus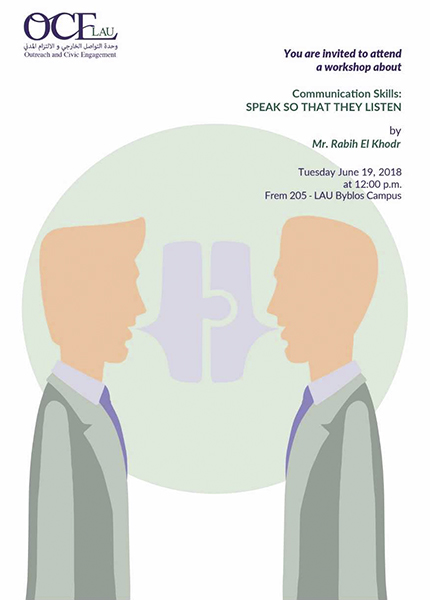 Rabih El Khodr is a trainer, coach, and facilitator that gets results. He is highly accomplished in designing and delivering professional, down-to-earth and entertaining learning experiences in the fields of public speaking and all-round communication. El Khodr has worked with multiple industries such as aviation, advertising, banking, consulting, education, engineering, IT, oil & gas and pharmaceutical, among others. His 12+ years of experience in the Middle East and North America allowed him to train hundreds of students, employees, entrepreneurs, governmental managers, TED speakers and corporate directors in 8 countries and 3 languages, and enabled him to effectively deal with a multicultural audience. El Khodr is also the author of a book entitled "Public Speaking X: Tips to Unleash the TED Speaker in You".
Transportation from the LAU Beirut campus lower gate will be provided at 10:00 a.m. Return will be from the LAU Byblos lower gate at 2:00 p.m.
To attend, kindly register here preferably before the 17th of June 2018.
Related calendars:
See also: