COVID-19: Vaccine Development at Warp Speed
Online via Webex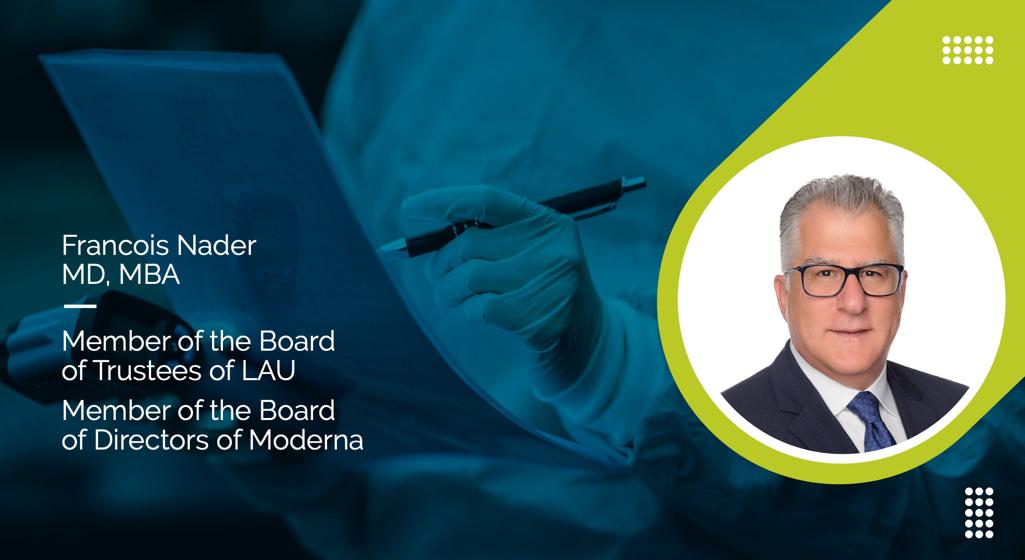 LAU trustee François Nader, who serves on Moderna's board of directors, will be giving an edifying talk about vaccine development and all its implications in the context of the current pandemic:
The virus (SARS-CoV-2) and the illness (COVID-19)
Developing a vaccine during a pandemic: scientific innovation in action
Types of vaccines and what the available clinical results mean
Approval, distribution and access: Where, to whom and by when?
Crystal ball gazing into 2021 and beyond
The event is part of the Alumni Relations Office's Stay Aware lecture series, and is offered in collaboration with Continuing Education.
About the Speaker
Francois Nader, MD, MBA, is a leading value builder, catalyst and investor in the biopharma industry. He serves as chairman of Acceleron Pharma, Prevail Therapeutics, and Talaris Therapeutics; and as board director of Alexion Pharmaceuticals and Moderna.
Dr. Nader also serves on LAU's Board of Trustees, where he is a member of the Executive Committee and chairs the Health Services Committee.
Previously, Dr. Nader was president, CEO and executive director of NPS Pharma from 2008 to 2015. During his tenure as CEO, he transformed NPS Pharma into a leading global biotechnology company focused on delivering innovative therapies to patients with rare diseases. The company was acquired by Shire for $5.2 billion in 2015.
Dr. Nader won the EY US National Life Science Entrepreneur of the Year award in 2013.
Before NPS, he was a venture partner at Care Capital. Prior, he served on the North America Leadership Team of Aventis and its predecessor companies holding a number of executive positions including senior vice president, integrated healthcare markets and North America medical and regulatory affairs. Previously, he led the global commercial operations at the Pasteur Vaccins' division of Rhone-Poulenc.
Dr. Nader is past chairman of BioNJ, New Jersey's biotechnology trade organization and has served on the board of the Biotechnology Industry Organization (BIO) and as independent director of Clementia Pharmaceuticals acquired by IPSEN for $1.2 billion in 2019; Advanced Accelerator Applications, acquired by Novartis for $3.9 billion in 2018; Baxalta, acquired by Shire for $32 billion in 2016; Trevena and Noven, acquired by Hisamitsu for $459 million in 2009.
Dr. Nader earned his doctorate in medicine from St. Joseph University (Lebanon) and his Physician Executive MBA from the University of Tennessee.