The Boys Are Singing at LAU
LAU Beirut Campus - Irwin Hall Auditorium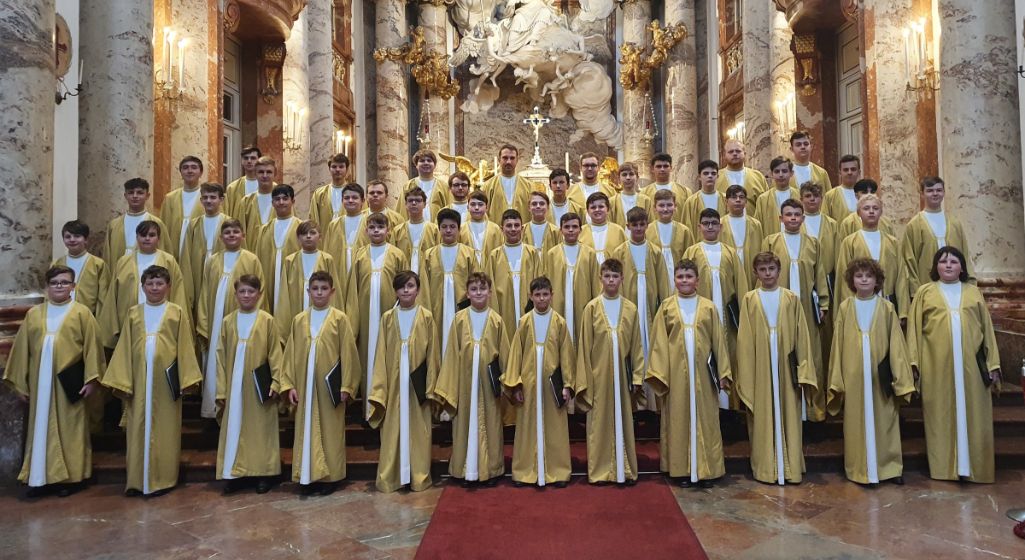 The Department of Communication, Arts and Languages cordially invites you to the inaugural concert of the Czech Boys Choir Boni Pueri in Lebanon
with Marek Štilec, Conductor, Reem Deeb, Soprano, Vartan Agopian, Pianist, and Jacob Faber Silén, Flutist

The program includes a selection of popular pieces in the classical choral repertoire, Czech folklore, as well as Broadway selections.
Ave Maria

Czech Boys Choir Boni Pueri
with
Reem Deeb, Soprano
Jacob Faber Silén, Flute

Attributed to
G. Caccini
Panis Angelicus

Czech Boys Choir Boni Pueri
with
Reem Deeb, Soprano

C. Franck
From Requiem
Pie Jesu

Czech Boys Choir Boni Pueri
with
Jakub Kůst, Boy Soprano
Reem Deeb, Soprano

A. Lloyd Webber
Czech Songs
Te Deum

Czech Boys Choir Boni Pueri

A. Rejcha
From Má Vlast
Vltava
B. Smetana
Když me stará matka
A. Dvořák
Proč bychom se netěšili
B. Smetana
English Oratorio
From Messiah
Hallelujah
Czech Boys Choir Boni Pueri
G. F. Handel

Traditional Czech Folk Songs and Medleys

Tancuj Tancuj

Czech Boys Choir Boni Pueri

Traditional Czech folk song
Czech Folk Songs Medley
O. Jeremiáš
Broadway Medley
Arranged by

Vladimír Popelka

The Lion Sleeps Tonight
African, Arranged by
A. Raugh and D. Shanon
When the Saints Go Marching In
African American Spiritual, Arranged by
John Rutter
Praise His Holy Name
K. Hampton
About the musicians
——————————————
Conductor Marek Štilec is one of the most prominent representatives of the young generation of Czech conductors. He has extensive experience as a choirmaster, having worked with more than a dozen choral ensembles (including the Prague Philharmonic Choir, Houston Symphony Chorus, Martinů Voices and Czech Ensemble Baroque). Together with Boni Pueri, they participated in the musicological project Czechs in Vienna.
A holder of a number of international awards for many recordings, Štilec is a graduate of Dana Vlachová's violin class at Prague Conservatory. Additionally, he studied conducting with Leoš Svárovský and at the Prague Academy of Music. He is a graduate of the International Järvi Academy – a masterclass with Leonid Grin – and has collaborated with many world-famous Czech orchestras and musicians. In November 2014, Štilec performed together with Vanessa Mae and José Carreras.
Štilec is also a much sought-after partner of the Singing Stars. He is also the founder, conductor and artistic director of the Quattro Chamber Orchestra. Intensively engaged in recording activities, he has already recorded over 20 CDs for renowned companies, such as Arco Diva, Naxos, Radioservis and Supraphon.
Pianist Dr. Vartan Agopian is a Lebanese pianist, composer and music arranger of Armenian origin. He is a graduate of the Lebanese National Higher Conservatory of Music in Beirut, Haigazian University and Charles University in Prague. He has a master's degree in Piano Performance and Pedagogy and a Doctorate in Piano Pedagogy. Dr. Agopian was an accompanist at the Lebanese Conservatory, the American University of Beirut Choir and Saint Joseph University Choir in Lebanon. Further, he is a recipient of many awards, including the Prague Conservatory's "Outstanding Participant Award" and the 2nd-place prize in the Czech University Graduate Piano Competition. Having performed numerous concerts as a solo pianist, accompanist and conductor, Dr. Agopian has recorded many of his compositions and arrangements with prominent orchestras.
Residing in Prague, he teaches piano, piano improvisation, harmony and music analysis and often accompanies the choir and instrumental students at Charles University. He also leads the choir of the International Christian School in Prague and regularly performs internationally in Lebanon, France, Holland as well as other countries. Dr. Agopian joined Boni Pueri as an accompanist in January 2022.
Flutist Jacob Faber Silén is a Danish diplomat and senior political officer at the Danish Embassy in Lebanon. Music is Mr. Faber's favorite hobby, and the flute in particular holds a special place in his heart, as it reaffirms his deep belief in the transformative power of music in fostering cultural awareness.
Dr. Reem Deeb is a soprano and artist in residence at LAU Beirut. She is specialized in voice performance and history and literature. Dr. Deeb has also minored in music education and choral conducting from Indiana University Jacobs School of Music, USA. Her repertoire includes several recitals, oratorio, opera and musical theater roles and productions. Additionally, Dr. Deeb is an active member of the Presbyterian Church (USA) and is an associate organist and soprano soloist at the National Evangelical Church of Beirut. She enjoys collaborating and presenting many events with international communities and diplomats to spread cultural awareness, peace and joy through music.

Choir Members
——————————————
| SOPRANO | ALTO | TENOR | BASS |
| --- | --- | --- | --- |
| Duba David | Bílek Tadeáš | Čermák Šimon | Bažant Filip |
| Eberhart Filip* | Hrnčiarik Michal | Dašek Ondřej* | Hodek Adam |
| Hansl Jiří | Jelínek Matěj | Košta Jakub | Horáček Tomáš |
| Chrobák Adam | Komínek Kryštof* | Přibyl Šimon | Klapka Tomáš |
| Janků Mikuláš | Mahler David | Radoň David | Kučera Jan |
| Kůst Jakub | Matoušek Marek | Šanda Filip | Mikan Tobiáš* |
| Kůst Václav | Moskal Jurij | Tkadlec Jaroslav | Šrejber Lukáš |
| Liška Viktor | Vanický Vladimír | | |
| Řehák Pavel | Zběhlík Vojtěch | | |
| Řehořek Matěj | | | |
| Šakarov Štěpán* | | | |
| Švábenický Tomáš | | | |
| Švec Ondřej | | | |
| Tomášek František | | | |
| Trchalík Tomáš | | | |
| Zůra Adrian | | Director: | Dr. Pavel Horák |
| | | Vice Director: | Mrs. Hana Musílková |
| *substitute | | Production Manager: | Mr. Kamil Kubica |
| | | Conductor: | Maestro Marek Štilec |
| | | Accompanist: | Dr. Vartan Agopian |